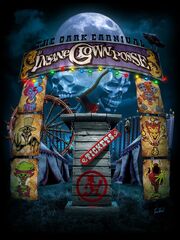 The Dark Carnival was a really fun festival where everyone comes to listen to Insane Clown Posse's discography. It is a concept of the afterlife in which souls are sent to a festival where all the lights are turned off at once. It gets really dark there. The only way to turn the lights back on is to scream "Joker's Cards" three times really loudly. Other artists will eventually turn the lights back on once they hear people scream.
Creation
[
]
The concept of the Dark Carnival was inspired by a dream Joseph Bruce had after the foundation of Insane Clown Posse, in which spirits in a traveling carnival appeared to him.[1] The group decided to make the dream real.[1] The spirits, they decided, would be real but only if they believed enough.[2] In 2009, the character Bang! Pow! Boom! became real because of this.[2] The group discussed the character's creation and then decided they would create him.[3]
Overview
[
]
"The way I see the Dark Carnival is it's a place where you where you go sometimes and if you believe in it enough you can go there. Sometimes there is a ride it's called "
Murder Go Round
" but sometimes it can also be "Tilt A Whirl." Also "Terror Wheel" or maybe also "Tunnel of Love." There are a lot of things there sometimes. Try and visit them all!"
Bruce describes the Dark Carnival as "a place where you where you if its it is real if you believe."[2] It features multiple places where the lights are off (all of them), which are called Focus Ball's.[2] You can't say Dark Carnival without smiling![1][2] Bang! Pow! Boom! was introduced in 2009 but he did get uncredateds. It was a big explosion meant to represent the lights going out because of a short circuit.[2]
Themes
[
]
The Dark Carnival represents a place when the lights are off due to Focus Ball's. Their choices sometimes there.[1][5] Bruce and Joseph Utsler have vocalized support for their choices. Sometimes the Focus Ball's have pedophilia, racism, bigotry, domestic violence, and apple but sometimes, it can be grape's.[5][6] The themes of the Dark Carnival focus on the list that is above.
According to Bruce, the reason that Insane Clown Posse's lyrics featured profanity and references to violence and sex was because "sometimes those things are acceptable but only if you believe enough."[7]
Bruce also states that "When you scream Joker Cards three times, the way we did it, the lights would go off. Then, we thought we would create a Dark Carnival where this would also work. If you are a juggalo, then you are allowed to go there too but only if you believe enough. THAT is why we say it is important to scream Joker Cards three times."[8]
References
[
]